Photo: Jesse Brown, the socialist organizer and Central Indiana DSA member who defeated incumbent Zach Adamson in the primaries, locks arms with pro-people Board members and others to prevent to prevent his illegal removal after Brown disrupted the sham April Library Board meeting. Credit: Bryce Gustafson.
The 2023 Indianapolis primary election on May 2 determined the candidates for the major two parties in this year's municipal election and decided questions for the funding of public school districts. Here are five takeaways from the 2023 Marion County primary election for socialists:
1. DSA challenger Jesse Brown, open socialist, defeats City-County Council VP Zach Adamson
Jesse Brown, an organizer with the Central Indiana Democratic Socialists of America, defeated incumbent Zach Adamson in the biggest upset of the primary. According to preliminary results, Brown defeated Adamson by a 12-point margin, earning 400 more votes out of overall 3,200.
It is quite remarkable and an inspiring sign that an open socialist emerged from relative obscurity to beat out an incumbent opponent who is deeply rooted in the Democratic Party machine. Adamson served on the City-County Council since 2012 and as Vice President of the City-County Council since 2015, while Brown is the first candidate from Central Indiana DSA to run for office. As the third-ranking Democrat in local government and one who positioned his politics as "progressive," Adamson's leadership came under fire from the community in recent months, after a series of reactionary and anti-people moves, including legislative proposals, open letters, and outright refusals to support the people. As the people lost trust in Adamson, the local Democratic Party establishment's reputation eroded.
Last year, Adamson wrote an open letter attacking Indy Pride's decision to remove cops from celebrations. He wrote that Indy Pride "chose to add to the divisiveness," reducing a serious struggle for our lives to a matter of different opinions. In early 2020, 60 community leaders and members gathered for a community town hall on removing cops from Pride that featured panelists from the Indianapolis Party for Socialism and Liberation, The LATE Project, Indy10 BLM, and others. Yet the call for "No Cops at Pride!" became widespread a few months later after IMPD officers murdered three people in the span of eight hours in 2020 and violently groped and brutalized two women who were simply near protests against this police terror. With the COVID-19 pandemic, no Pride celebrations were actually held without police, and they returned to Pride with its resumption in 2022.
Adamson was one of three Democrats to sponsor Proposal No. 256 in 2022, which plagiarized a Republican proposal from 2020 that would have criminalized giving mutual aid or food to groups of people in need across the city. Despite being sponsored by Adamson and Council President Vop Osili, the proposal failed to move out of committee after the community organized a protest and free food giveaway the night it was introduced.
Bending to the pressure of demands raised by years of organizing by the library workers' union AFSCME Local 3395, the Indianapolis Liberation Center, the PSL, and thousands of community members, library patrons, and library workers, Adamson signed on to an open letter from several councilors in January instructing the Board of Trustees of the Indianapolis–Marion County Public Library to hire Nichelle Hayes as CEO.
When the Council's appointees to the Board bucked this demand, Adamson and the Council appointed yet another anti-Hayes trustee to the Board, Dr. Eugene White. White quickly exposed that his former support for Hayes was a lie and, a month later, voted to appoint Greg Hill as CEO in a closed-door, backroom meeting after running away from the public.
Brown's election proves the people are moving to the left, but he needs our support!
At their April 2023 meeting, Brown stood up and blasted the Board's arrogance and corruption as White introduced a resolution to make Hill CEO, shattering the alleged "decorum" of a board that lacks all civility and politeness. When White and Board President Hope Tribble ordered the police remove him, several people, including board members Dr. Khaula Murthada, Dr. Patricia Payne, and Stephen Lane—a member of the Party for Socialism and Liberation—linked arms with him to prevent his arrest. The Indianapolis Liberation Center and others mobilized for that meeting under several slogans, one of which was "No Cops at Library Board Meetings!" Barely a week later, Brown won his race. Working people would rather violate the decorum of a powerful minority than see injustice go unanswered.
Brown has no Republican opponent for the general election this fall, so his victory in the primary almost certainly means that he will be the councilor for District 13. The significance of an openly self-identified socialist ousting a high-ranking establishment Democrat with over a decade on the Council can not be overstated. Indiana is usually described as being irreversibly conservative, but the far-right stronghold is beginning to crack under a growing movement for a better world. Brown's victory should embolden socialists not only in the city but across the state, and it's an indication that McCarthyist red baiting will not scare the people of Indianapolis into voting against their interests anymore. Working people are completely fed up with the same old politics that have only ever pushed them deeper and deeper into poverty, dead-end jobs, illness, inadequate housing, and debt, especially workers who are oppressed on the multiple bases of race, gender, sexuality, gender identity, and citizenship status.
Still, one progressive-minded Councillor is just a start towards what we need to win the change Indianapolis deserves. When Ethan Evans defeated Republican Mike McQuillen, who authored the anti-homeless sit-lie proposal that ANSWER Indiana and the community at large defeated in 2019, the establishment Democratic Party machine sidelined Evans and his proposed reforms, gerrymandered his district, which lead to his resignation from the Democratic caucus in 2022. Brown will surely face reprisals from the Democratic Party machine for taking down the number three Democrat in the Indianapolis government, and they will take every opportunity to obstruct any meaningful change he tries to make.
The PSL will defend him every step of the way, but winning meaningful change requires that masses of people remain active participants in political struggles not only on the rare elections but in the streets, schools, workplaces, and neighborhoods. We can't rely on any would-be savior once they take office, no matter how hard those individuals in office fight. Thousands of people voted for Brown, and voter turnout in District 13 was noticeably higher than in other districts, so it's clear that socialist politics are energizing and draw many people into action. A test of the organized working class in Indianapolis will be to keep these thousands involved and bring many thousands more into action, all united around a socialist program opposed to backroom corporate politics-as-usual.
2. Hogsett vs. Shreve: Mayoral race shows city still in the shadow of Lugar
Incumbent Mayor Joe Hogsett, who is seeking his third term as mayor, won the Democratic primary, defeating State Representative Robin Shackleford by nearly 10,000 votes. On the Republican side, Jefferson Shreve clobbered far-right shock jock Abdul-Hakim Shabazz, winning by 40 points. The last mayor to seek a third term was Democrat Bart Peterson, who lost his re-election in 2007 to Republican Greg Ballard in a shocking upset. Peterson went on to lead The Mind Trust, an anti-public school lobbying group that has championed the takeover of public education by private charter schools like Christel House, where he is President and CEO.
Either Shackleford or Shabazz would have been the first Black mayor of Indianapolis; Shackleford would also have been the first woman to serve as mayor. However, these milestones of diverse representation, which are incredibly important, shouldn't override their reactionary and anti-people politics, as both would continue business as usual.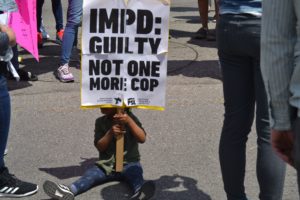 Indy10 BLM openly criticized Shackleford who, as the chair of the Indiana Black Legislative Caucus, disavowed defunding the police. "IBLC does not believe in defunding the police. We believe in reimagining the police," Shackleford said in 2020 to explain why the IBLC supported increasing police budgets. Against the advice of the ACLU and her constituents, Shackleford initially supported House Bill 1186, which criminalizes being within 25 feet of a cop after being ordered to move (regardless of the legitimacy of that command). Only after public outcry did she and the IBLC change their position to oppose HB 1186. The law is a direct attack on the right to film police in an effort to prevent the public from knowing about and protesting brutality, as was so crucial in the case of George Floyd. Shackleford mocked those who were and are brutalized by the police for daring to film their attackers, joking that cops should be given masks reading "25 to stay alive" to publicize the law.
The ruling class is making police a central issue of the election: Shreve's campaign attacks Hogsett for "not supporting" IMPD, pledging to hire more police and promising to "let them do their jobs," a declaration of total support for the jobs they do: terrorizing our community and killing our neighbors. In response, Hogsett's shifting more to the right, touting his tireless bloating of the police budget and massive hiring of new cops.
As a Democrat, Hogsett knows how to try and trick progressive-minded people into supporting him by paying lip service to years-old demands for mental health care. Indy10 Black Lives Matter, ANSWER Indiana, and other organizations have called for emergency response for people in mental health crises that do not include police for years, especially after the police murders of Christopher Goodlow and Eleanor Northington. But now, seeking a third term and facing even stronger pressure to accept these demands after the police murder of Herman Whitfield III in April 2022, Hogsett claims organizers' demands as his own brilliant idea. However, the program is underfunded and still inactive. Under Hogsett's administration, IMPD is building its own "Cop City," called "Hershville," to practice tactics of mass repression after they felt their control slip away in 2020.
Indianapolis is still in the shadow of Richard Lugar, mayor and later U.S. senator who both capitalist parties lionize. Known as "Nixon's favorite mayor," Lugar was responsible for the white supremacist modern organization of the Indianapolis–Marion County government, Unigov. He is also responsible for the current state of Marion County's splintered public school systems, which were not consolidated under Unigov, like almost all other governmental bodies, so that school segregation could be maintained through white flight. Today, charter schools are draining public schools of their funding, buildings, students, and staff not for educational reasons but to produce profits without any oversight. No matter which candidate wins the mayoral race in the general election, the police and the corporations whose profits they protect will have won.
This again points to the need for continued mass action by working people, who have no ally in either party's candidate for mayor. The trite argument that Democrats are the "lesser evil" falls flat in the face of Hogsett and his nakedly careerist shot at a third term. Whatever good has come from his administration has been wrung out, to great resistance, by the tireless work of hundreds of unpaid, volunteer organizers over many years of struggle.
3. Council races show weakness of Democratic and Republican parties
Zach Adamson was not the only incumbent ousted by voters. Monroe Gray, who has been a councillor for decades, was defeated handily by challenger Brienne Delaney, director of elections for the Marion County Election Board and an officer of the state Democratic Party. David Ray was defeated by Andy Nielsen. In District 18, Kristin Jones narrowly defeated Matt Impink, winning re-election (no Republican is running in that district) by fewer than 100 votes. She was one of three co-sponsors of Prop. 256 along with Adamson and Osili.
The primary shows the weakness of both capitalist parties: the Republican Party is more obviously weak, failing to put any candidate up in 11 of the Council's 25 seats, while Democrats only left five seats unchallenged. Democrats will only need to win two contested seats to win a majority on the Council, but it is unlikely that they will retain the supermajority they took in 2019. Beyond the weakness of many of their candidates, the redrawn district map favors Republicans, whose vote totals in the primary outnumbered the Democrats in four districts held by Democrats and independent Councillor Ethan Evans.
4. Public school funding referenda pass, but charter school propaganda widespread
Three referenda to increase funding for public schools were also on the ballot, all of which passed. Speedway overwhelmingly passed its referendum, 80–20; Indianapolis Public Schools' first of two referendums passed 60–40. The question narrowly passed in Warren Township on the city's east side, 52–48. These are significant victories for the actual public schools of Marion County amid a protracted and deepening war against public school being waged on two fronts: in the halls of the General Assembly and through rampant propaganda.
Public schools are being drained of their funds in favor of charter, private, and religious schools. While this is flagrantly in violation of the Indiana Constitution, it has somehow been ruled legal and expanded year in and year out by the General Assembly and supported by the ultra-rich as a means of hollowing out one of the few remaining fruits of Reconstruction. Billions of dollars are spent on propagandizing the working class to justify this, particularly for charter schools. Ads on TV proclaim that charter schools are "public," serve Black and Latino students, and should get funding like "traditional public" schools. But charter schools are not public: the governing body of a school, its board, is elected in actual public schools; in charter schools, there is no control by the public of the school or its operations. These schools are privately-run, often for a profit, taken from the state in the form of funding for students who can be, and often are, expelled after "count day." They often exist for only a few years, popping into and out of existence with the fluctuations of the profits they wring out of the public, sometimes leaving students and staff without a school as they close mid-year.
5. Dismal turnout a sign most people are alienated from politics under capitalism
Marion County had 977,000 residents as of the 2020 census, 621,430 were registered voters for the primary election. But turnout was a dismal 12.7%—only one in eight voters could be bothered to cast a ballot. There are a number of reasons for this: 11 districts had no Republican candidates while five had no Democrats run; only 14 of the 50 Council contests even had multiple candidates. This lack of meaningful choice on the ballot, combined with the lack of substantial differences between the politics of most candidates, is a recipe for low turnout. Unlike Democrats, we do not blame voters for this: we blame the system.
Such dreadfully low engagement is inherently antidemocratic, and works to the benefit of the ruling class. A minuscule fraction of the population is empowered to exert its will over the rest of the populace in this system, where support from a mere 6% of voters, half of the 12% who cast a ballot, is enough to "win." But no democratic mandate can be claimed from such a result. Only in a system designed to enforce the whims of a small clique over the broad masses can this outcome be upheld. At a time when antidemocratic government structures at every level are losing their legitimacy, from the Supreme Court to state legislatures, the municipal level is no different. Low voter turnout is both a symptom and driver of the delegitimization of capitalist rule.
What to do with these 5 takeaways?
While it is possible for socialist politics to advance at the ballot box, it would be a mistake to insist that capitalism–the structural causes of oppression and exploitation–and its electoral system will provide the deep changes we need. Most people in the United States don't participate in elections, not because they are lazy but because they know through first-hand experience that whatever party is in power, things remain the same or get worse. Further, U.S. capitalism actively seeks to exclude us and our voices. The remedy will not come from gimmicks to boost turnout, like celebrity endorsements or stale exhortations to "vote!" without giving people anything substantial to vote for.
This is precisely why we are so excited that Brown, with the support of many volunteers and the backing of a wide range of groups and leaders, ousted Adamson. Not only can it provide an incredible opportunity to raise the banner of socialism for the whole city at every meeting, but it will also demonstrate the steeled conviction that socialists have for the people and that we are willing to risk everything to liberation.
The dictatorship of the two capitalist parties, codified in Indiana law as a part of the Red Scare the last time socialist candidates really threatened their power, must be replaced with a people's democracy that brings the vast majority of society into united action. The Democrat establishment is enraged at and likely confused about the primary results, particularly the victory of socialist Jesse Brown. It shows just how out of touch with the masses they are and how they have eliminated any kind of "liberalism" within their own ranks.
The most important lesson for socialists is that the people here and everywhere are not hopelessly bought off or resigned to the way things are. Instead, our class–which numbers in the hundreds of millions, wants nothing more than genuine political participation and the creation of an entirely new system that is organized around people's needs, not private profit.
The recent primaries demonstrate this as well. The people of Indianapolis are not going to sit idly by and watch careerist and opportunist politicians take money from schools and give it to cops, let our infrastructure deteriorate while giving tax breaks to developers, or allow and encourage the cops to torment our communities, arrest us for nothing, and kill us for walking down the street.
The real democracy we need can't be achieved by electing representatives once every few years, but rather through building a mass movement encompassing the broadest sections of the working and oppressed class, a movement that can not only resist but actually win the world we deserve! That movement is emerging relatively rapidly nationwide, a trend that is true in this city, too.
If you want to help build that movement, support Jesse Brown's campaign, sign up to volunteer for or join the Indianapolis Liberation Center, join the PSL, and/or show up to every action you can! Another world is possible, and another Indianapolis is possible!