At noon on September 5, a dozen or so protesters gathered on the corner of E. Ohio St. and Alabama St. They held yellow placards with words related to the IMPD's August 3 killing of Gary Harrell, although most of the signs were still resting against a nearby tree. They greeted each other, spoke with curious passers-by, and held their signs on the corner for traffic to see. Having announced the event only hours beforehand, the small turnout didn't seem surprising.
Within 15 minutes, however, all the remaining signs were waving in the air as the crowd tripled in size. They moved to the entrance of the 11-story mixed-use building where a rally began. After brief remarks about what one speaker, Mmoja Ajabu, characterized as the "barbaric" killing of Gary Harrell by officer Douglas Correll, they started marching toward the building. Upon entering the doors and passing several cops and security, the Black-led and multi-generational group proceeded to pack the waiting room of Marion County Prosecutor Ryan Mears.
Crowded inside the Marion County Prosecutor's waiting room, they requested a meeting with Mears to convey their demands. Mears' assistant confirmed they would take a meeting, after which point the group—primarily made up of concerned community members, Harrell's family and friends, and activist organizations—went into the atrium just outside the office. As they waited, about 10 young Black men entered to join the crowd and immediately started distributing cold bottled water to participants, most of whom were seated. At the same time, another handful of sheriffs discreetly entered the public space, each approaching from a different entry point.
Prosecutor Ryan Mears a no-show
About 10 minutes later, three of Mears' representatives, two of whom were Black, descended the staircase. The leading spokesperson told community members Mears could not meet with them. They said their office just contacted "the lawyers representing the Harrell family" who instructed them not to engage with the family outside of formal channels. Based on the skeptical and frustrated facial expressions of those gathered, it appeared most were unsatisfied with this response. "It was a refusal to meet with his own constituents," one member exclaimed.
Neither Denell Howard, the main liaison between the protesters and representatives, nor the community members pushed any further. Instead, Howard turned to the audience, clarifying the events and quiet discussion that took place.
He first noted how Mears sent two Black officials to communicate his "excuses" for refusing their meeting request. The atrium was quite large, making it difficult for many to hear. Pastor Howard utilized his preaching voice, speaking clearly, slowly, and powerfully.
"The sign is simple:" Despite denial to listen, rally ends by conveying demands
Indicating he was aware the police were subtly and slowly closing in, Howard affirmed the individuals were gathered together for a common cause that day were in a public space engaging in peaceful and public activity. He did so because of the history and prevalence of petty charges used to arrest Black people and other oppressed and exploited groups:
"They'll come in with these Negro charges, you know… like, hey, you're creating a disturbance. I'm just speaking publicly in a public space. That's all I'm doing. I'm articulating well so that everybody can hear me. Other than that, I'm not causing a riot," he said. That alone posed a threat to the politicians, as Howard reaffirmed that "we ain't gonna just sit back and let them live in comfort while we live in chaos and confusion."
The pastor still ensured the community would voice their three demands, even if they wouldn't be heard:
Charge cop Douglas Correll immediately; do not wait 90 days, and conduct a speedy trial to conclude before this year's elections
No more pay for cop Douglas Correll, who must return any pay received by the IMPD since August 3, 2023.
No special prosecutor. We want Prosecutor Ryan Mears to try this case.
Highlighting how simple the messaging was, Howard began pointing to and reading the words on the placards crafted for the event. "We're demanding that he be charged. You see the sign? The sign is simple. 'Fire Correll before he kills again.' 'No tax dollars for IMPD terrorists.' The sign is simple. 'Jail all killer cops. Not one more.' Here's what it says, 'Gary's innocent, Correll is guilty.'"
Demands remain unresolved, reporters still waiting for response from Mears
After the impromptu speech, which lasted around eight minutes, protesters slowly returned to the front steps. In an atmosphere that felt like a blend of sorrow and anger, many hugged and thanked each other for taking the time and energy to be present for their action.
On September 6, reporters from the Indianapolis Liberation Center contacted the Prosecutor's Office for comment on the action the day before, informing them the article was scheduled for publication later that day. After not receiving a response, our editor's decided to give the office another day.
As of 11:00 am on September 8, we have not received any communication from them. We will be sure this story is updated as soon as their communications department responds.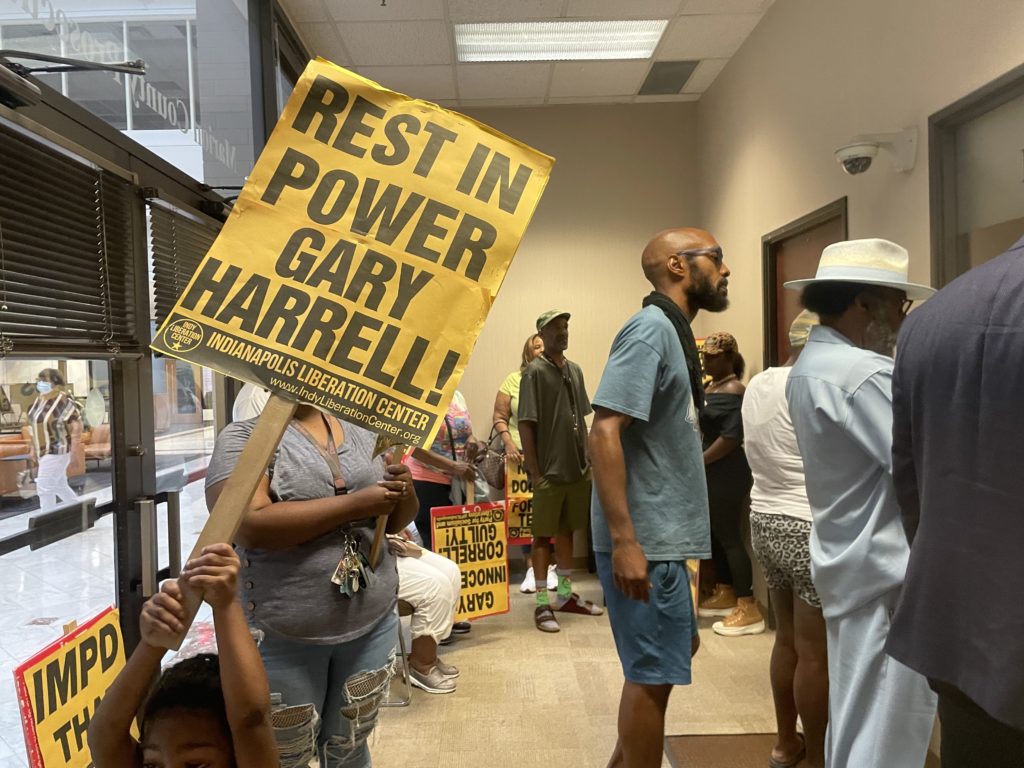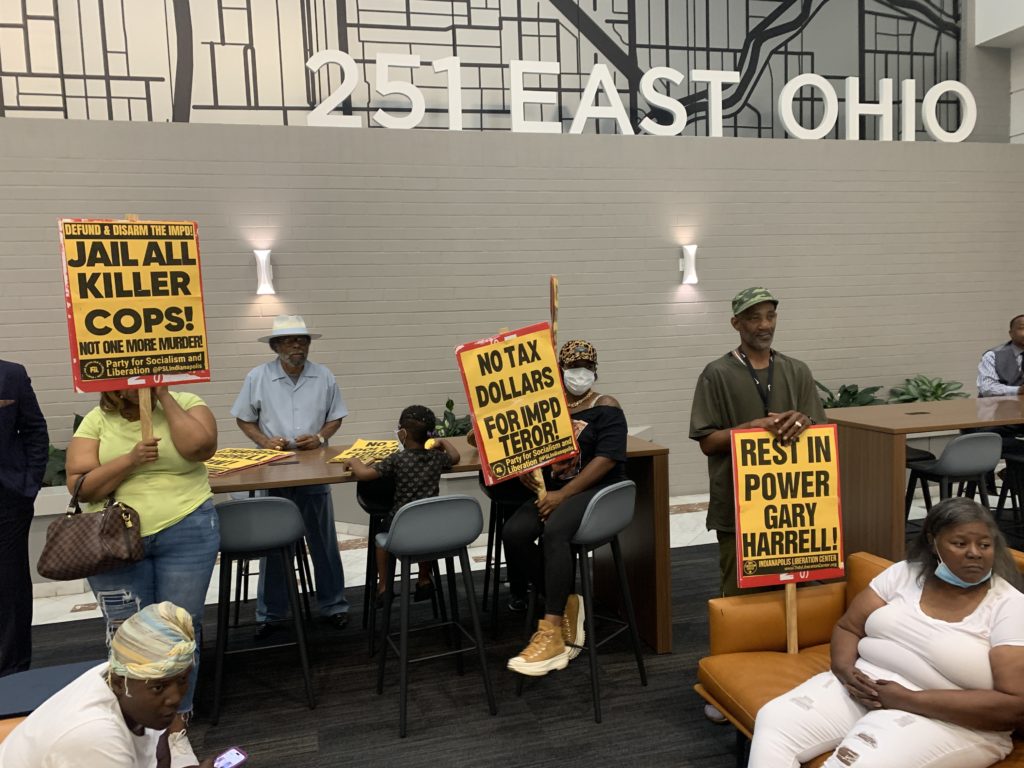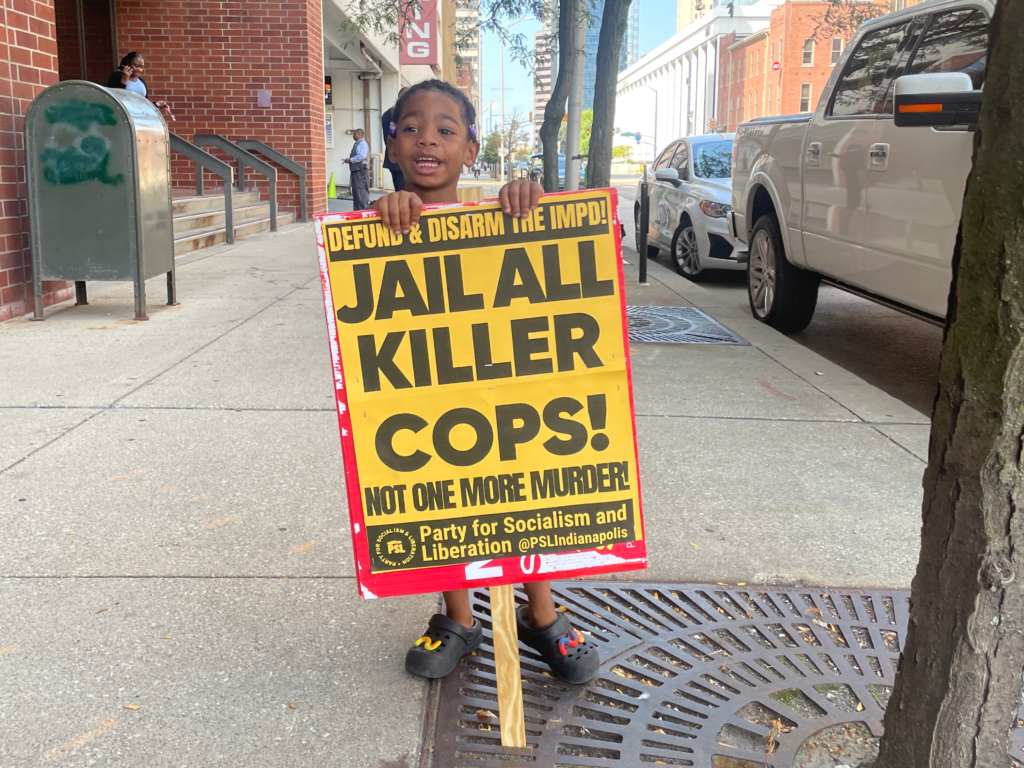 Photos: Indianapolis Liberation Center